If you're looking for porn games on Steam, you're in luck. There are lots of adult games on Steam, including free porn games. Yep, free porn games, something we're known for around these parts.
Here's the scoop.
Finding porn games on Steam is easy so long as you are 18+ and adjust your content preferences.
Porn games don't have a category, but can be found under tags such as "sexual content."
Many top played games feature porn games.
When Did Steam Allow Porn Games?
Let's get to the core of the issue, shall we?
Many people don't know that Steam allows porn games at all. And that's fair given its more of a semi-recent development. Steam did not always allow porn games.
However, in 2018, it's parent company Valve offered a change of heart regarding adult content. This led to a general policy change related to the type of games Steam allows. In other words, they began allowing porn games.
Let's assess this situation further.
Many "mainstream games," including Grand Theft Auto, boast a ton of adult content including sexual in nature. Mainstream games have come under deep criticism for this, but it doesn't change the fact that these games are widely available.
My point is, the censoring of games that more appropriately tag themselves as "porn" shouldn't be condemned for being upfront regarding their content. Yes, mainstream games utilize a rating system, but should not adult games be held to the same standard?

I'm confident that part of Valve's decision regarded profitability in a clearly growing sector. However, another part of the decision likely came down to the reason and logic cited in the above paragraphs.
In other words, censoring porn on Steam is a bit hypocritical and Steam will miss out on a growing sector. Many Steam porn games have found themselves in the coveted "most played" list which Steam publishes on a monthly basis.
Where Are Porn Games on Steam?
So now we understand that Steam carries porn games, but where do we find them?
The answer lies in your Steam settings. So long as you are of-age to view such content (18+), you need to set your mature content settings in your profile to allow for adult content.
Here's what that looks like.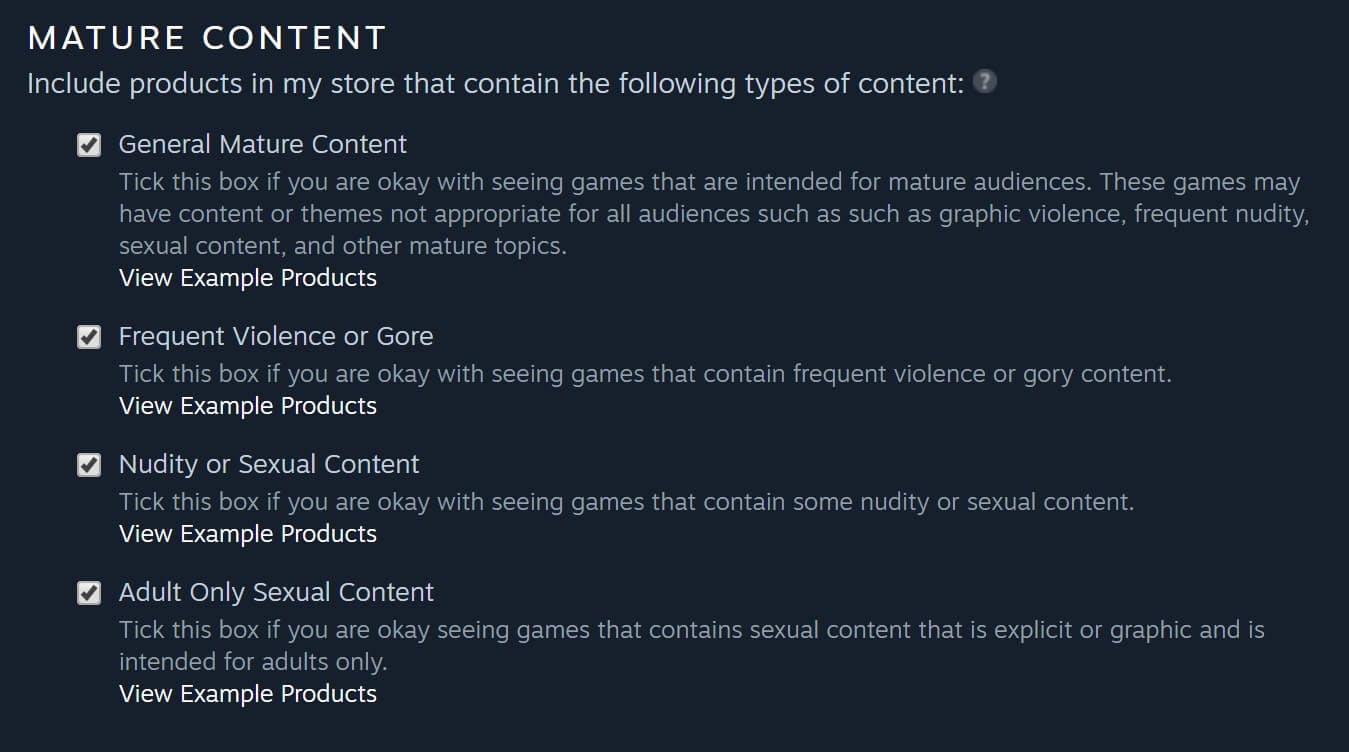 In the Steam app, click your username and then store preferences. On the desktop, this is reached by clicking that squigly hamburger menu.
All in all, finding porn games on Steam is super easy. When your Steam mature content settings are updated, you'll be able to access porn games on Steam.
Steam's porn game area isn't a section, however. That said, you need to search for tags related to porn games. As long as you are logged into Steam and of-age, you'll get access to porn games. Usually, typing in "sexual content" reveals a swath of adult games.
Steam's free porn game section isn't all that robust, certainly, it pales in comparison to our own. However, Steam's premium porn games aren't bad. Here are the top Steam porn games for those interested (which should be all of you, otherwise, why have you read so far?).
Do you feel better about your life now? Does knowing that porn games are infiltrating mainstream platforms make you more or less interested? Does it take away the rush that accompanies taboo content, or does it make you feel that there's an evolution in porn gaming happening?
One thing is certain, porn game accessibility is rising fast. Its no longer content found in the back alleys on the Internet. And that's fair given mainstream games have always featured adult content. Why not just call it all what it is?
I'd say that's what is happening with Steam.