What is HuniePop, other than one of Steams most popular porn games? According to some Steam porn game lists, HuniePop is one of the best adult games the platform offers. But what's it all cracked up to be other than elaborate puzzles?
Well, we kind of nailed it already, but let us dive in, shall we?
What Is HuniePop?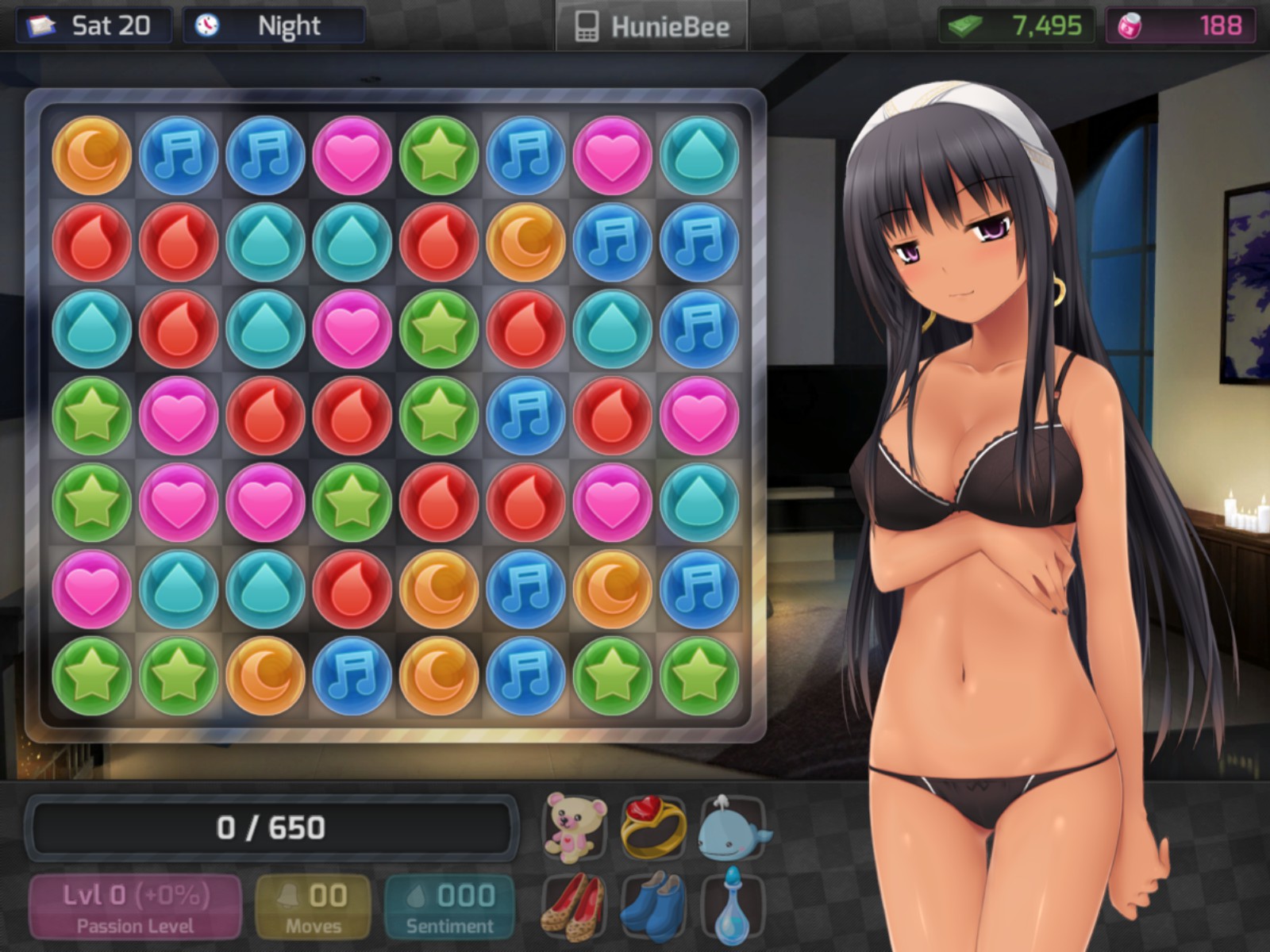 This may well be the easiest question to answer in this HuniePop review. HuniePop is a simple puzzle game that features dating simulation elements. While the blend sounds trivial, the game offers complexities which cause it to be addicting for some. And by some, I mean, probably you, bro.
HuniePop's inception involved a Kickstarter project that, well, kicked a lot of ass by raising over $50k. What's absurd is, the Kickstarter folks asked for less than half of that sum. That tells you everything you need to know about the initial interest in HuniePop as a game.
HuniePop's visual splendor aligned with a puzzle experience seem to be a recipe for it's success. The graphics are incredible gentle and on-point.
There's a love fairy named Kyu that helps you, a broken soul who can't score with women, find love through dating simulation style play. You choose your simulation gender experience.
Much of the dating simulation happens through elaborate dialogue. As the game moves on, you meet lots of women (or men depending on your gender selection). You need to get to know these women and the more intimate details of their lives. For example, when is her birthday and what size is her bra?
And yes, you guessed it, you'll be put into a quiz to see how well you got to know the girl of your envy.

When you answer questions correctly, you collect Hunie currency. That's like, money. More Hunie means more fun, but you could have guessed that.
But here's a caveate you must understand: You gotta provide for these girls. For example, you can't chat it up with a girl and not offer her food or buy her a drink. So the Hunie is important and your awareness in situations matter a whole lot.
The more you date, the more Hunie you can earn, the more you can date…
The quiz/puzzle games are boards.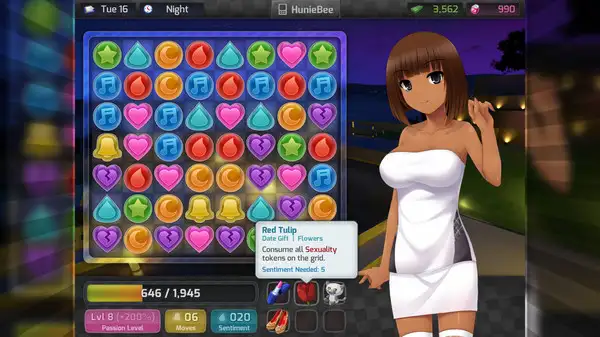 Each space on the board aligns with the girls desires. It could be simple kissing, or something more intense. The board's icons represent categories for the girl's desires. There's a tear emoticon that translates to an emotionally-driven category.
HuniePop is an elaborate game, certainly more-so than originally meets the eye.
The puzzles begin in a more easy fashion but things get tricky as the game progresses. Hence, this is why so many bros get super addicted to HuniePop. It's not an easy solve. Oddly, the game doesn't display hardcore sex in any way, more the allusion and idea of such.
The anime art is fire. It's superb. And the difficult puzzles and dating simulation aspects to the game are pretty great. HuniePop is a well-thought out game that impresses those who play it. With exceptional anime art and a thoughtful dating simulation pursuit, HuniePop is worth trying on Steam.