Many people are attracted to the idea of BDSM, but fear entering the space. If you're single, finding a BDSM partner can be pretty scary (and rightfully so, you must be cautious). If you have a signifigant other, communicating BDSM fantasies often feels unsettling. Enter Dominatrix Simulator, a BDSM simulator porn game that allows newbies to get their feet wet in the BDSM space. But Dominatrix Simulator is far from just a BDSM newbie game, its a solid solution for more experienced participants looking for some safe fun from the comforts of home.
In our Dominatrix Simulator review, we look at a compelling, fresh approach to entering the often intimidating BDSM space. Learn more about this VR BDSM game and decide if it is right for you.
Dominatrix Simulator Review – About The Game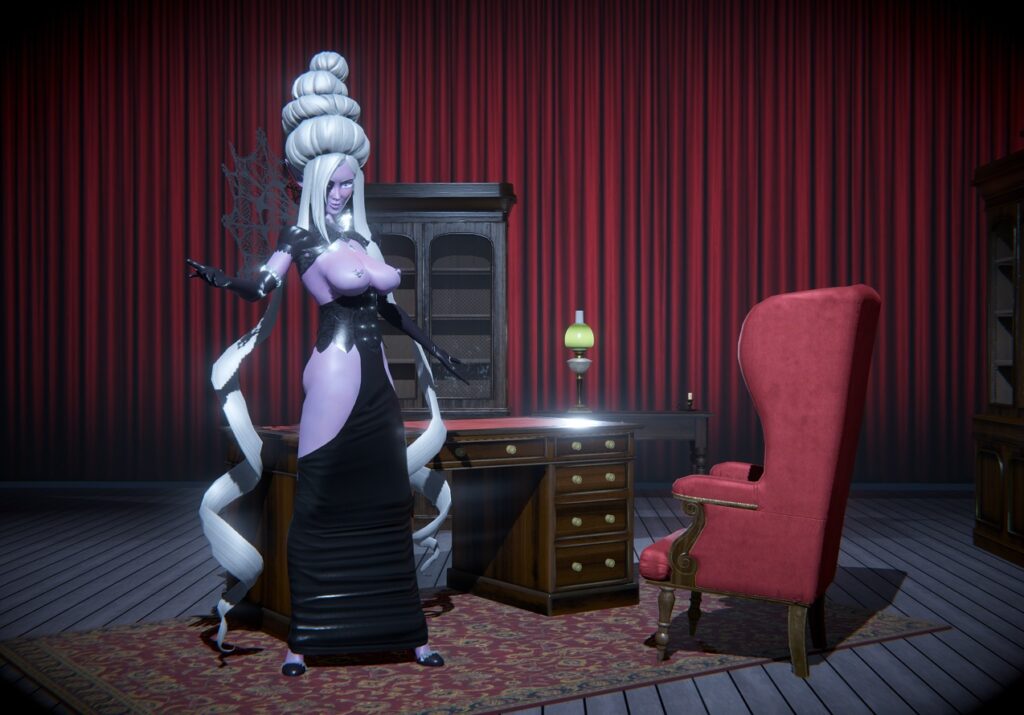 Dominatrix Simulator allows people like you to experience a dungeony world of BDSM from the safety of your own home. While playing a VR BDSM game may feel like something that's destined for underwhelment, Dominatrix Simulator is anything but. It wins.
In the BDSM world, virtual domination certainly has it's place. Whether it is text or email commands, or video conferencing, there's a lot of upside to VR capabilities.
Your Goddess appears before you. You'll be asked to follow commands, such as kneeling.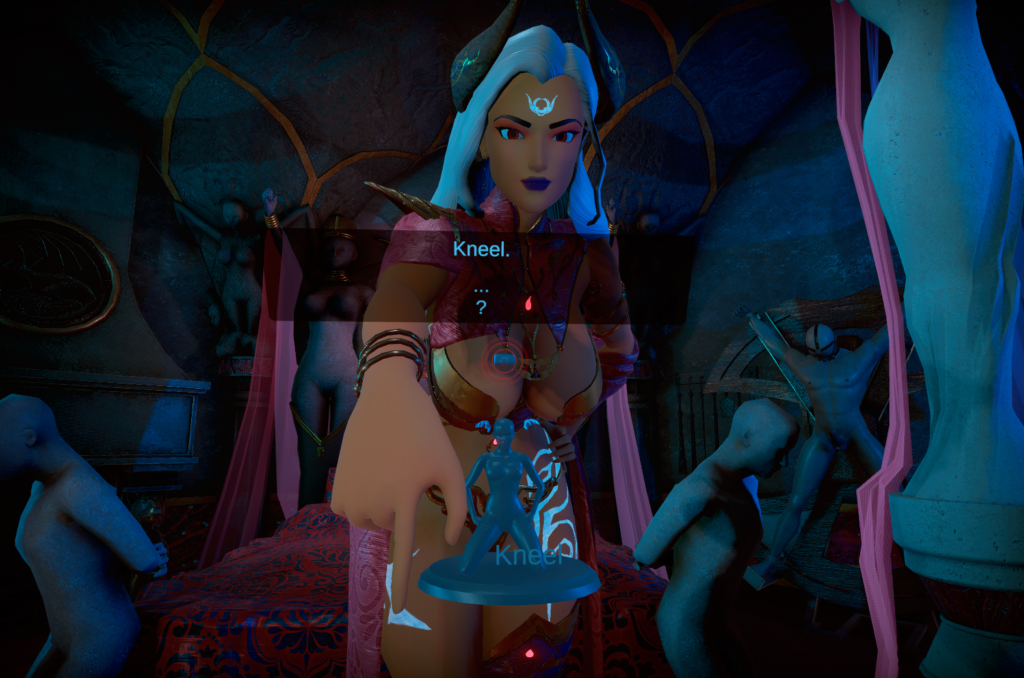 You have the right to say no. This is because Dominatrix Simulator wants to provide an environment based on consent. In this way, Dominatrix Simulator helps groom BDSM newbies into a safe approach. This is a good and healthy and makes Dominatrix Simulator an even more viable, influential game.
While the sexual graphics are bold and gorgeous, Dominatrix Simulator is BDSM erotica at it's core. But as we mentioned prior, BDSM is a verbal, erotica driven experience. So this makes sense.
This is an IRL, or In Real Life structure scenario. In other words, you play out the commands, at least the ones you accept. So if you are asked to kneel, or remove your shirt, you do so.
There's another interesting layer to Dominatrix Simulator: Therapy.
---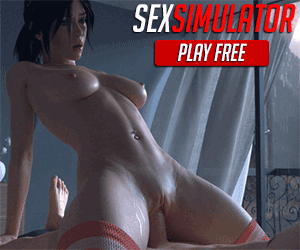 ---
Find horny gamer girls on
FuckBook
---
As wild as it may seem, one of the FemDom's offers therapy sessions as part of her domination. And the therapy might actually be helpful on a personal level. Remember, many people turn to BDSM for the theraputic benefits.
Dominatrix Simulator Graphics
Dominatrix Simulator uses dark and dreary illustration styles in creating a tantalizing BDSM environment. There's a lot of innonence blended with femdom empowerment which serves to arouse and subjugate equally. It's all really fun in the end given the safe VR BDSM environment.
These graphics are really, really fun.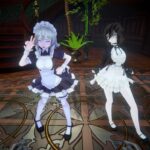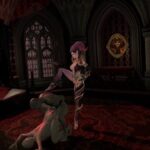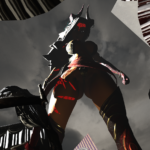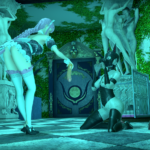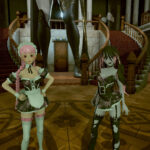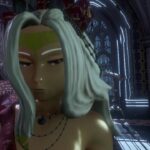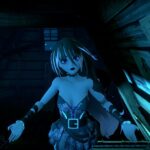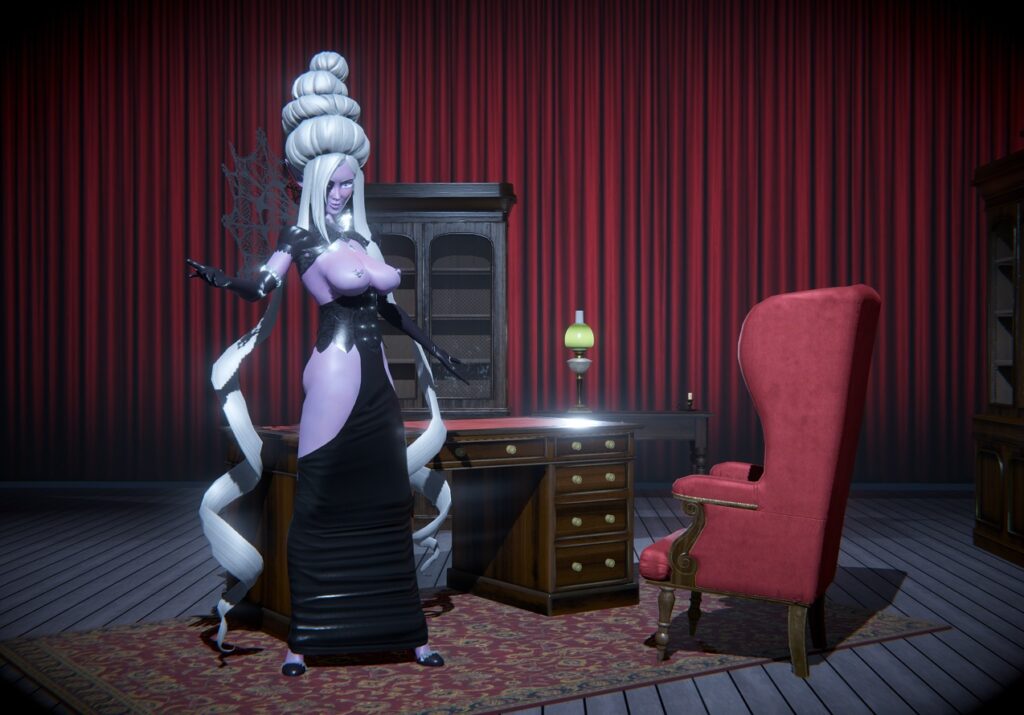 Dominatrix Simulator – What Devices Work?
There are a number of popular VR devices which work with Dominatrix Simulator. It should be noted, you can play a non-VR version of Dominatrix Simulator if you don't have any of the following devices.
Oculus Rift, Oculus Quest, HTC Vive.
Where and How to Play Dominatrix Simulator
There's a free Dominatrix Simulator demo available on Steam. That's probably your best bet. You will need to hold a Steam account and be 18+ years of age in order to play. But that's a given.
Dominatrix Simulator is a compelling, exciting play in the VR BDSM sphere. It offers both newbies and more seasoned BDSM enthusiast a safe, virtual place to experience their fantasies and desires. Dominatrix Simulator graphics are eye-popping enjoyment.